Get ready for the first big screen adaptation and live-action make of the Barbie franchise featuring Margot Robbie in the titular role, and Ryan Gosling as Ken. Set to be released on 21st July 2023, it is the first movie deal from Mattel Films, and will be released by Warner Bros. Pictures. The movie will compete with Nolan's Oppenheimer, a film about the atomic bomb, at the box office.
The basic plot
Based on the trailers and news, we expect Barbie to go through an existential crisis in a perfect Barbie world. After some kind of breakdown, Barbie gets expelled from Barbieland for being a less-than-perfect doll. She then sets off to the real world to find true happiness and discovers life without the confines of perfection. The movie features different versions of Barbies, Kens, and humans, who come together for this hilarious journey of discovery.
The cast
There are expected to be 11 versions of the titular role, all named Barbie. Here is a list of the actors who play the various versions of Barbie:
Margot Robbie as Barbie
Dua Lipa as mermaid Barbie
Kate McKinnon as gymnast Barbie / weird Barbie
Alexandra Shipp as writer Barbie
Emma Mackey as physicist Barbie
Ana Cruz Kayne as judge Barbie
Nichola Coughlan as diplomat Barbie
Issa Rae as president Barbie
Ritu Arya as journalist Barbie
Hari Nef as doctor Barbie
Sharon Rooney as lawyer Barbie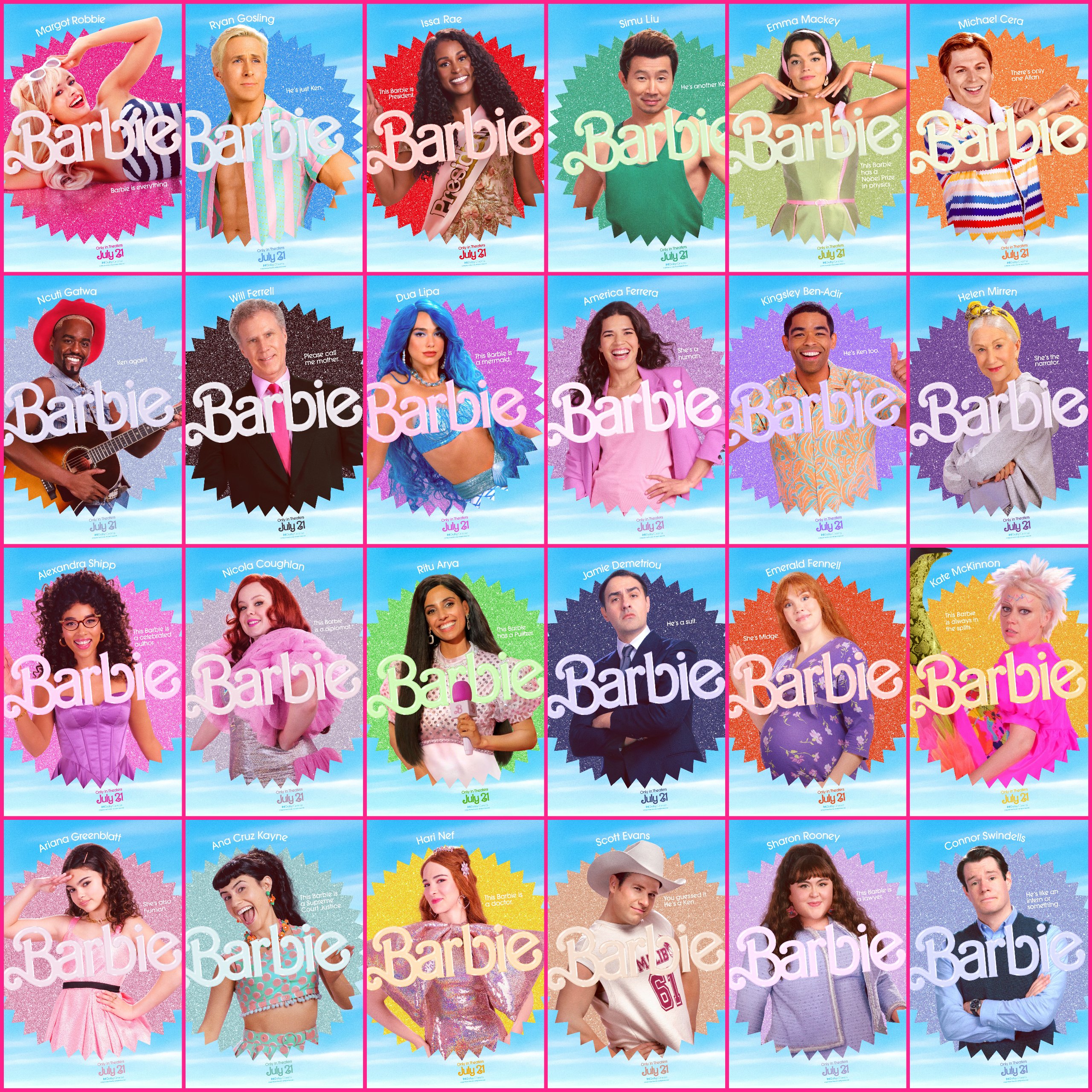 The Kens are played by Simu Liu, Ncuti Gatwa, Kingsley Ben-Adir, and Scott Evans. There are also the 'Humans' played by America Ferrera, Ariana Greenblatt, Connor Swindells, Jamie Demetriou, and Will Ferrell as the "weird" and "insensitive" CEO of Mattel.
There's also Midge and Allan, played by Emerald Fennell and Michael Cera. Mattel introduced them both in the '60s as friends of Barbie and Ken.
The look and feel of the movie
The look of the movie is perfect like that of a toy set, with neon look, lots of pink, and the cast looking like dolls with waxed looks. In the posters, all Barbies are described by the jobs they have, while the Kens are simply described as 'being Ken'. Will Farrel who plays Mattel CEO comments "It's a loving homage to the brand and, at the same time, couldn't be more satirical — just an amazing comment on male patriarchy and women in society and why Barbie's criticized and yet why every little girl still wants to play with Barbie". Ryan Gosling called it "the best script I've ever read".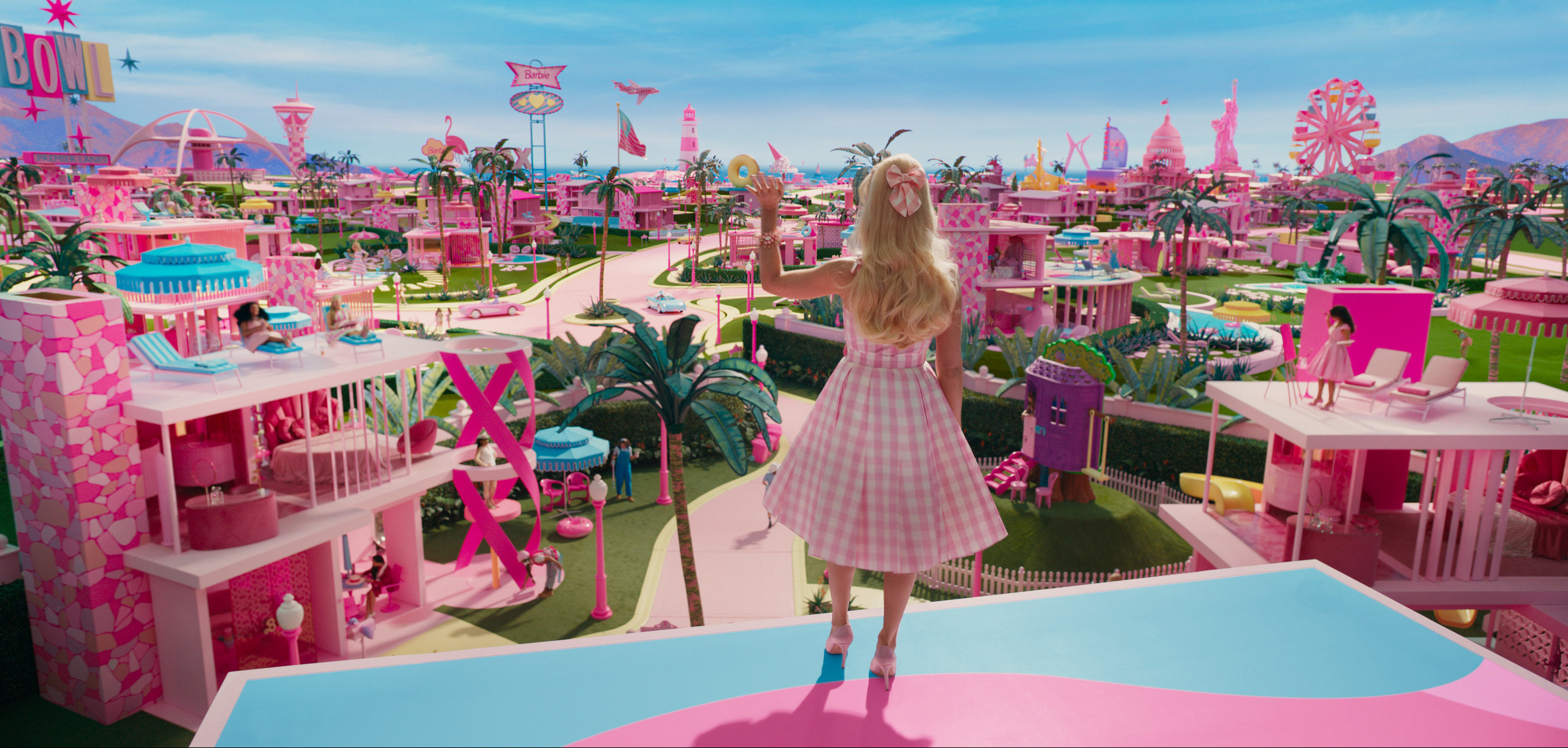 The creative team
The film is directed by Greta Gerwig and co-written by her and Noah Baumbach. Greta is being called the best choice to direct the movie. She is known for acting in and making dialogue-driven independent films, sometimes called 'mumblecore'. The visual effects supervisor of the movie is Glen Pratt. He has previously worked on movies such as Paddington 2.
To conclude
There is already lot of buzz around the movie, with Buzzfeed and others calling it "THEE summer film of 2023". So we would suggest- Don't Miss It!!